The famous 'God is my shepherd' chapter – Hope to have a brief summary soon… for a meanwhile you can read the translation for Psalm 23 here , and study the literary analysis of the Psalm here.
Here is the recording of the group singing together:
GAM KI ELECH BEGEI TZAL-MAVET LO IRA RA KI ATA IMADI
גַּם כִּי-אֵלֵךְ בְּגֵיא צַלְמָוֶת, לֹא-אִירָא רָע– כִּי-אַתָּה עִמָּדִי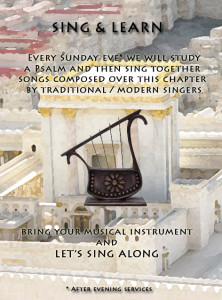 http://www.youtube.com/watch?v=I88o7G_u3oY
Here is an aditioanl recording of a traditional melody, commonly used for memorial service. Performed by cantor Mo Glazman as an opening of a memorial service held for Frank Medjuck of Halifax. Beth Israel Synagogue.