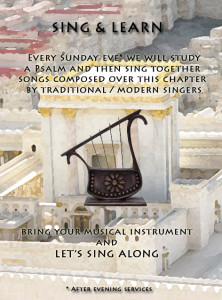 VANI BECHASDECHA – PSALM 13, 6
At the link above you can find the recording from my Cellphone for Tehilim 13,6 that we sang together.
Our discussion in a nut shell:
It seems that this chapter was written by king David after some sort of a defeat in battle.
The first verses (Psalm 13, 2-3) he expresses his frustration and pain of being abandoned by HaShem. Metaphorically G-d doesn't see him anymore, ignores his existence. In continuation for this comment, we mentioned that in times of distress, people tend to feel lost as a child that his/her concern is the parents..and the worst punishment is their ignorant from him/her. (Then also feel left alone by G-d – where is He? Why did He do that to me?..)
Verses 4-5 king David, although in a personal distress, still cares for the Lord's humiliation by his failure "Lest my enemy say, "I have overwhelmed him"; my adversaries will rejoice when I totter".
Then king David concludes with this verse that is so full of faith at all times – this is the composed verse we sang together:
"But I trusted in Your loving-kindness, my heart will rejoice in Your salvation; I will sing to the Lord for He has bestowed [it] upon me."
וַאֲנִי בְּחַסְדְּךָ בָטַחְתִּי יָגֵל לִבִּי
בִּישׁוּעָתֶךָ אָשִׁירָה לַיהוָה כִּי
גָמַל עָלָי
VANI BE CHASDECHA
VATACHTI, YAGEL LIBI
BISHU-ATECHA,
ASHIRA LASHEM KI GAMAL
ALAY.